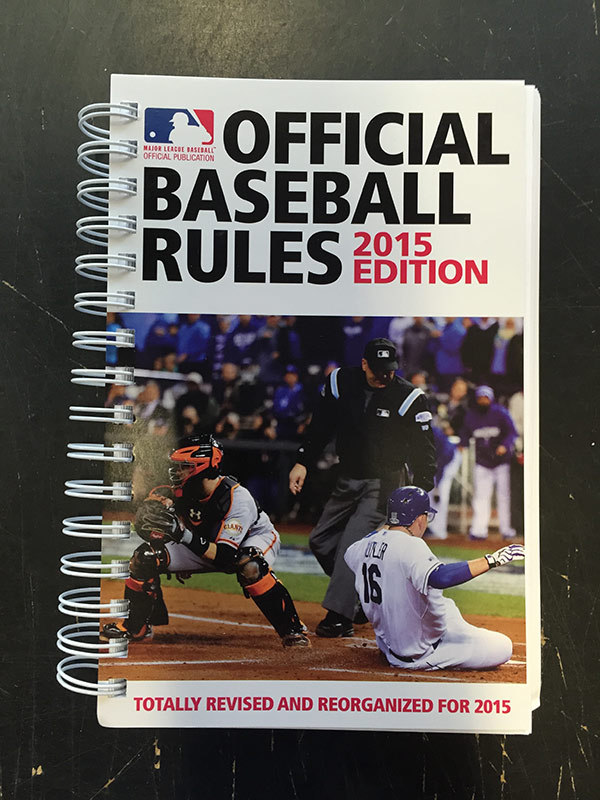 Wie angekündigt wurde das offizielle Regelwerk heuer komplett revisioniert. Das betrifft vor allem den Aufbau und die Nummerierung der Regeln. Für uns Umpire heißt das eine ziemlich große Umstellung, wenngleich der Inhalt und Wortlaut der Regeln ziemlich gleich geblieben sein dürfte. Als Übergangslösung ist in der heurigen Ausgabe das alte und das neue Regelbuch enthalten, um dem Anwender das Zurechtfinden etwas zu erleichtern.
Die ABUA-A wird eine Sammelbestellung an Regelbüchern machen, wer Interesse an einem oder mehreren Exemplaren hat, kann ein kurzes Mail an info@umpire.at schicken.
Hier der ungefähre Aufbau der OBR 2015:
1.00–OBJECTIVES OF THE GAME
2.00–THE PLAYING FIELD
               2.01       Layout of the Field.
               2.02       Home Base. 
               2.03       The Bases.
               2.04       The Pitcher's Plate.
               2.05       Benches.
3.00–EQUIPMENT AND UNIFORMS
               3.01       The Ball.
               3.02       The Bat. 
               3.03       Player Uniforms.
3.04       Catcher's Mitt.
               3.05       First Baseman's Glove.
               3.06       Fielding Gloves.
               3.07       Pitcher's Glove.
               3.08       Helmets.
               3.09       Undue Commercialization. 
               3.10       Taking Equipment From the Field.
4.00–GAME PRELIMINARIES
               4.01       Umpire Duties.
               4.02       Exchange of Lineup Cards.
               4.03       Weather and Field Conditions.
4.04       Special Ground Rules.
               4.05       No Fraternization. 
               4.06       Security.
               4.07       Doubleheaders.
5.00–PLAYING THE GAME
               5.01       Starting the Game ("Play Ball!").
               5.02       Fielding Positions.
               5.03       Base Coaches.
5.04       Batting.
(a)          Batting Order (incl. Batting out of Turn).
(b)          The Batter's Box.
(c)          Completing Time at Bat
5.05       When the Batter Becomes a Runner
               5.06       Running the Bases.
               5.07       Pitching.
(a)          Legal Pitching Delivery.
(1)          The Windup Position.
(2)          The Set Position.
                              (b)          Warm-Up Pitches.
(c)          Pitcher Delays. 
(d)          Throwing to the Bases.
                              (e)          Effect of Removing Pivot Foot From Plate.
(f)           Balks. 
(g)          Illegal Pitches With Bases Unoccupied.
(h)          Ambidextrous Pitchers. 
                              (i)           Pitching Prohibitions.
(j)           Penalties for Violations
               5.08       How a Team Scores.
               5.09       Making an Out.
(a)          Retiring the Batter. 
                              (b)          Retiring a Runner.
(c)          Appeal Plays. 
                              (d)          Effect of Preceding Runner's Failure to Touch a Base.
               (e)          Retiring the Side.
               5.10       Substitutions and Pitching Changes (incl. Visits to the Mound)
               5.11       Designated Hitter Rule
               5.12       Calling "Time" and Dead Balls.
               5.13       Interference and Obstruction.
(a)          Batter or Runner Interference. 
(b)          Fielder Right Of Way.
                              (c)          Unintentional Interference.
                              (d)          Spectator Interference.
(e)          Coach and Umpire Interference.
(f)           Interference With Squeeze Play or Steal of Home.
(g)          Obstruction. 
               5.14       Unsportsmanlike Conduct.
6.00–ENDING THE  GAME
               6.01       Regulation Games. 
               6.02       Suspended Games
               6.03       Forfeited Games.
               6.04       Protesting Games.
7.00–THE UMPIRE
8.00–THE OFFICIAL SCORER
DEFINITION OF TERMS
INDEX